Road Trip(s)!
Animation Mentor crew traveling coast-to-coast from Brooklyn, New York to Vancouver, British Columbia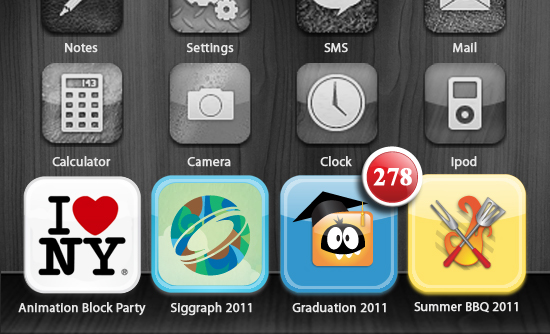 In 2011, we made it a point to get out there and meet our community in person. We have already enjoyed memorable visits with our students and alumni in Germany, France, and New York. And now we are packing our bags for British Columbia. This promises to be coast-to-coast fun!
Animation Block Party 2011
Brooklyn, New York
July 29 – 31, 2011
We were excited to travel across the country to meet up with local mentors and share the love. Check out what happened at Animation Block Party 2011!
SIGGRAPH
Vancouver, British Columbia, Canada
August 9 – 11, 2011
Canada, eh? That's right, after New York, we are heading cross-country and north of the border. Cofounder Carlos Baena and the crew will be there to meet all of you. We have lots of events planned — including student seminars hosted by Autodesk, a student social ... not to mention one amazing Celebration @ SIGGRAPH with our friends at Reel FX! See you in Vancouver.
Graduation 2011
We are so proud!
Eighteen months and six classes ago, a group of Animation Mentor students started embarking on their dream. And today, we are so proud to say that these students are now animators — in every sense of the word. Our newest graduating class is ready to go out there and show the animation world what they can do ... and we cannot wait.
Of course, here at Animation Mentor, we must send off our students in proper style — with a little event that we like to call graduation.
On July 16, before a packed audience at the Yerba Buena Center for the Arts in San Francisco, our newest graduating class of 180 students took the stage with smiles, laughs and a whole lot of excitement.
Students, alumni, mentors, instructors and industry professionals were there to share in this wonderful evening. So from all of us to all of you, let us say it again — congratulations!
Food, Friends and Fun!
Annual summer-time BBQ with hundreds of our best friends!
If you peered past the giant BBQ pits and smoke ... dodged the occasional flying object ... and stopped drooling over the incredible amount of food ... you could do nothing but smile. That's what happens when we host our BBQ!
Back on July 17, a big chunk of the Animation Mentor community took over the Great Meadow at Fort Mason in San Francisco. Cheers, laughter, fun and full tummies were the themes for the day.
"We always say this but it's true. Animation Mentor is a family" says cofounder and CEO Bobby Beck. "What better family gathering than to have a BBQ?!?"