Animation Around the World: Part 2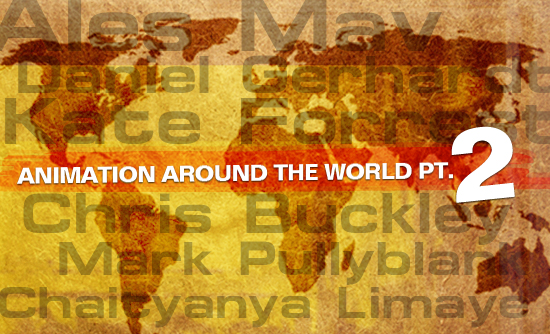 Animation Mentor is going international! From FMX in Germany, Annecy in France, Animation Block Party in New York, and SIGGRAPH in Canada, Animation Mentor is traveling to major tradeshows worldwide to meet up with mentors, alumni and prospective students. We thought we'd showcase a handful of Animation Mentor folks who have made their mark on the world stage, as we trot the globe in coming months.
Daniel Gerhardt's travels in animation have taken him to Hong Kong, Taiwan, Australia, New Zealand and back home to the United Kingdom. We caught up with him just as he wrapped up a job at Aardman Animations in Bristol, the studio renowned for its model animation in Wallace & Gromit and other features, shorts and TV shows. Gerhardt credits his position at Aardman to "keeping in touch with the many good friends I have met and having my reel ready to send out at a moment's notice." He adds, "At Aardman I was an animator on a movie, where there is a lot of discussion back and forth to your lead and the director. You have to show your work no matter what stage you have gotten to. [Animation Mentor] definitely prepares you for this level of scrutiny."
Gerhardt heard about Animation Mentor while working in Taiwan at a now defunct studio. "I had studied animation before at University, but I didn't feel like I had pushed my skills far enough there. [Animation Mentor] seemed perfect, since I could do it while working from a foreign country and keep pushing myself. [Animation Mentor] teaches you to think about character and performance, and doesn't just focus on technology like a lot of other schools." Subsequently, Gerhardt worked at Animal Logic in Sydney, Weta Digital in Wellington, and Framestore in London, as well as a couple of game design firms in the UK.
Ales Mav was working as a generalist on commercials in his native Slovenia when he first heard about Animation Mentor on CGTalk, the online forum for digital artists. "There was no way I could become a full-time animator in my small country, since the industry is pretty dead there. So, I left everything behind and moved to London without even having a job offer." It took Mav over a year to land that "dream job," but all that waiting paid off in the end when he got his "very first proper gig" as an animator at Double Negative, the Oscar-winning, London-based studio. "I most certainly wouldn't be where I am today without [Animation Mentor]," said the 2008 grad. "[Animation Mentor] helped me understand the principles of animation from the ground up, starting with the basics of animating a bouncing ball. Now I get the opportunity to work on some of the coolest hero shots in a major motion picture."
Australian Kate Forrest credits Animation Mentor with giving her a solid foundation on which to build her career, which has taken her from Canada to Thailand and now to New Zealand, where she works as an animator at Oktober Studios, which opened last year in Auckland. "One of my mentors also kicked my butt in regards to my bad time management, which is a lesson I am eternally grateful for," Forrest admits. "Also, I think the ability to take and give feedback is always essential for being a good member of any animation team. It's not always fun to hear, but constructive criticism is the fastest way to learn and make your work better." Unemployed during the economic downturn, the 2007 graduate saw the ad for her current position on the Animation Mentor job board. "I applied and was offered a job about six weeks later. To be honest, I wasn't really sure about the studio, so I asked a fellow [Animation Mentor] graduate who was working there, and that person seemed to be enjoying it so I decided to go for it. Now I absolutely love it here."
Already working in the industry for a few years, Chris Buckley considers Animation Mentor the boost his career needed to become a Senior Animator at Sony ImageWorks Vancouver. "[Animation Mentor] helped me be prepared for such critical eyes looking at your work at all times. It really makes you realize that you can't let a frame go untouched." The Canada native heard through the grapevine that Sony was opening a studio in Vancouver. "I jumped at the chance to work at a high-class studio here in my backyard. I applied and two weeks later I was interviewed to work on a major motion picture." The journey has been rewarding, if bumpy at times. "Being a Senior Animator means I shouldn't cry when my work is torn apart in dailies," the 2008 graduate jokes. "It still happens sometimes -- don't tell anyone!"
Chaityanya Limaye dreamed of becoming an animator since he was a kid who loved cartoons in Pune, India. "Animation Mentor made that dream into a reality." Now an animator at Dreamworks Dedicated Unit in Bangalore, Limaye praised Animation Mentor for replicating the challenges of working in a studio. From the mentor relationship which prepared him to "understand constructive criticism" and the development of a refined demo-reel to the steady pace of animation exercises, "right from a bouncing ball to a polished multi-character dialogue shot." The 2009 grad adds to the list: "And helping and taking help from peers. Everyone in my team exchanges ideas, gives feedback and makes sure our shots work in continuity. We also have to work with other departments to make sure shots sail smoothly through production." Limaye majored in Computer Science in college and decided to enroll at Animation Mentor six months after graduation. "I chose [Animation Mentor] because it gives students the opportunity to learn directly from the animators who do all the great work we see in movies. Learning from professionals is essential because that way we are prepared for the studio environment."
One of those professionals is mentor Mark Pullyblank, a former previs artist at Weta Digital in New Zealand. "I loved working for Weta. They are a world-class studio in the business of winning visual effects Oscars, so the quality of work is very high." The Canada native and former musician has previously worked at Rainmaker Effects, Frantic Films, and Sony, where he was "pleasantly surprised" to encounter a large number of Animation Mentor grads when he returned to Canada in October 2010. Pullyblank enjoys "the interaction with the students through the Q&A's but the overall process of analyzing people's work has made me a much better animator and communicator." Currently, he is the animation director at Goldtooth Creative Agency in Vancouver.
In the coming months, Animation Mentor will be catching up with other Animation Mentor graduates on the tradeshow circuit and hopefully meeting new students. Our next stops: Animation Block Party in the Big Apple at the end of July and Siggraph in Vancouver in August. Check out our booth and say hello. And don't forget the parties!
Margaret Lee is a freelance writer who lives in the Bay Area.